What to Pack for Safari in Africa
CLASSIC PACK VS TRASH PACK
The prospect of packing for a safari holiday can leave you super excited if you're one of "those" people or totally overwhelmed and packing like our mate here on departure day – AKA a 'trash pack'.  Whichever one you are, read on….we've got you covered!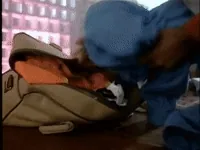 What to bring will vary according to the type of African safari you have chosen, the countries you will be visiting, and also the time of year in which you are travelling.  Generally speaking though, you should try to pack as light as possible for ease of getting around and depending on where you are on safari, some airlines have strict rules for luggage weights.
CLOTHING
Clothes that are easy to wash and fast drying are recommended, especially for longer trips
Ex-military or military-style clothing is not recommended in any areas
Bring some neutral-coloured clothing, such as beige, green, brown (no bright colours)
Leave the camouflage gear at home as this is the uniform often used by patrolling forces
Some smarter clothes are also recommended for nights out
Warm windbreaker/fleece for winter and cool days and game drives
Long-sleeved top and trousers for evenings when mosquitoes are out
Jeans / trousers / shorts
T-shirts / cotton shirts – layering is key here so as the day warms up, you can peel off
50+ rated UPF cover up for sun protection. This sun poncho is a perfect choice and colour.
Raincoat
Some warm clothes for sunrise/sunset game drives
Hiking shoes / closed-in shoes for walking safaris, especially in the Kruger (sandals are not allowed) and the Okavango Delta.
Sandals / flip-flops / thongs
PERSONAL HEALTH
Toiletries
Personal medication / prescriptions / prescription glasses or contact lenses
Personal medical kit
Hat, sunscreen and sunnies
Malaria prophylaxis if necessary (please check with your doctor or travel clinic regarding the area you are travelling to)
Insect repellent
Aspirin / Paracetamol
My #1 must have >> Travelan is a product that reduces the risk of travellers' diarrhoea caused by e. coli (better know as Delhi belly or Bali belly). Available over the counter at most pharmacies.
TRAVEL ACCESSORIES
International plug adapter
Mobile phone* and charger
Photographic: Video / Camera and charger / spare batteries
Binoculars
Towel (even on accommodated tours, some places do not necessarily provide towels)
Refillable water bottle
Postcards & photos from home to share with the locals
* PLEASE NOTE: We strongly advise you, however, to disable the geotagging function before posting any animal sightings as this could help poachers find their next kill.
DOCUMENTS
Passport including any visas required for the trip.
Vaccination certificates ie. Yellow Fever (if required)
Travel Insurance details (including 24-hour emergency contact telephone number)
E-tickets/flight tickets
Tour confirmation voucher
Credit cards, travel cards & cash
Photocopies of important documents (passport, etc. – please keep them separately from your actual documents). We also recommend that you leave a copy at home, with a family member or a friend)
Spare passport photos, sometimes required for visa on arrival or other.
Driving licence if you intend to hire a car whilst abroad (international licence are also a good idea)
VALUABLES
Please try to avoid bringing unnecessary valuables
NB:  Please do not keep all your cards and cash in one wallet. Keep a backup card and some cash separate.  It is your responsibility to ensure you keep your valuables safe at all times.
Trailblazers Travel have small group sustainable and eco tour departures for a variety of Safaris in South Africa, Botswana, Zimbabwe, Tanzania, Uganda, Rwanda and beyond.  In addition to these small group tours, we offer customised itineraries to suit your preferred dates of travel.